Particle sizes distinguish one homogeneous mixture from another. Solutions are mixtures with particle sizes at the molecule or ion level. The particles have dimensions between 0.1 to 2 nanometers. Typically solutions are transparent. Light can usually pass through the solution. If the solute is able to absorb visible light then the solution will have a color. A blue liquid transmits blue light and absorbs the other colors of the spectrum.
A mixture of water H2O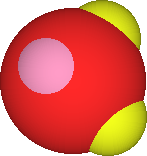 and ethanol CH3CH2OH

is homogeneous. The particles are individual molecules of H2O and CH3CH2OH. The two molecules are spread uniformly throughout the solution.
A mixture of water and sodium chloride is homogeneous by chemistry standards. The particles in the mixture are molecules of H2O and hydrated sodium cations, Na+, and chloride anions, Cl1-.
Solutions are transparent. You can see through them. The mixture remains stable and does not separate after standing for any period of time. The particles are so small they cannot be separated by normal filtration.
A solution may have a "color" but it will still be transparent.